Our Staff

Cynthia C. Morton, PhD
Dr. Cynthia C. Morton, Research Director of the Center for Uterine Fibroids, is the William Lambert Richardson Professor of Obstetrics, Gynecology and Reproductive Biology and Pathology at Harvard Medical School. She received her PhD in Human Genetics from The Medical College of Virginia in 1982. She is board-certified by the American Board of Medical Genetics in PhD Medical Genetics, Clinical Cytogenetics and Clinical Molecular Genetics. She has received numerous awards including the Warner-Lambert/Parke-Davis Award of the American Society of Investigative Pathology. She also serves on various scientific/medical committees, including the Board of Directors of the American Society of Human Genetics, the Council of Scientific Trustees of the Deafness Research Foundation and the Executive Committee of the Reproductive Scientist Training Program. She has published over 180 original scientific articles, and makes frequent presentations at national and international scientific meetings. Dr. Morton is currently funded by the NIDCD, NCI and NIGMS of the National Institutes of Health. Her major research interests are molecular and cytogenetics studies of uterine leiomyomata, hereditary hearing loss and cytogenetic approaches to gene discovery for developmental disorders.

Raghava Shree Kavalla, MBBS, MPH
Dr. Kavalla manages two major studies on uterine fibroids at the Center for Uterine Fibroids: Finding Genes for Uterine Fibroids and the Gene Sequence Variants in Fibroid Biology. Dr. Kavalla received her medical degree in India from Kakatiya Medical College; Andhra Pradesh in 2006. She received her Masters in Public Health in 2008 from Brown University, Rhode Island, where she studied prenatal HIV testing patterns in United States. Her interests include women's health and maternal and child health. She hopes to pursue a career in clinical medicine and public health research.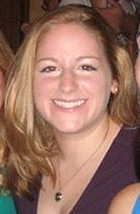 Stacey Eggert
Stacey Eggert is currently a graduate student at Harvard Medical School, earning her Ph.D. in Pathology. Stacey received her B.S. in Cell Biology and Biochemistry from Bucknell University in 2006 where her thesis work focused on finding genes involved in the centromere-spindle interaction in the model organism, Caenorhabditis elegans. She is now involved in both major fibroid projects in the lab, Finding Genes for Uterine Fibroids and Gene Sequence Variants in Fibroid Biology. Stacey is also continuing the research into the role of HMGA2 in fibroid development. Her interests include cytogenetics, genomics, and tumor pathology.
Serene Srouji, MD
Dr. Serene Srouji serves as a clinical collaborator for the Center for Uterine Fibroids. Dr. Srouji received her MD from Johns Hopkins University School of Medicine and completed residency in Obstetrics and Gynecology from University of Washington Medical Center. She specializes in Reproductive Endocrinology and Infertility. Dr. Srouji and her associates launched BWH's Robot-Assisted Reproductive Surgery when they performed Boston's first robot-assisted hybrid myomectomy for the removal of very large myomata. Her clinical interests include infertility, uterine fibroids, robotic surgery, in-vitro fertilization, polycystic ovarian syndrome and reproductive endocrinology. See Dr. Srouji's Physician Profile.